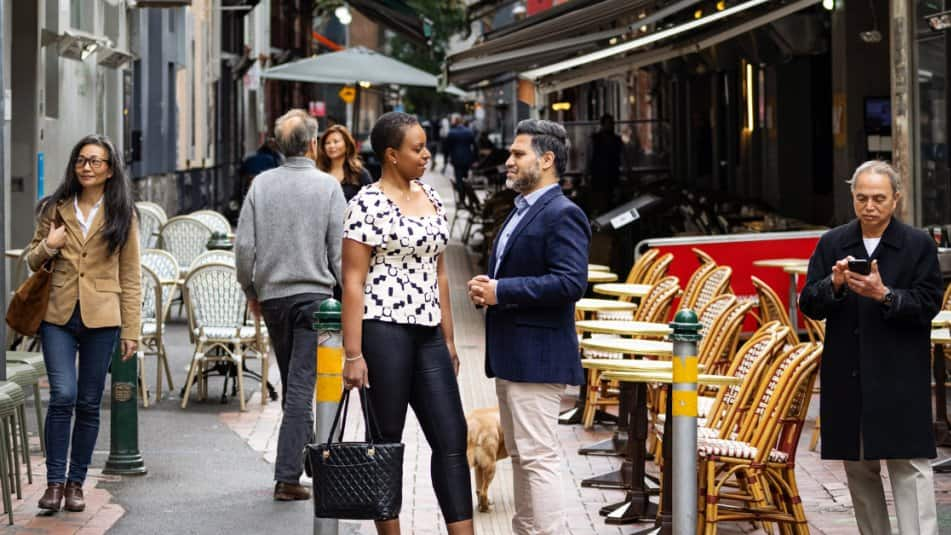 Whether it be retail centres, office buildings or residential spaces, these heightened standards are in demand and now expected. To meet and surpass this demand, KONE has developed various innovations and solutions which meet the ever-changing needs of our buildings and cities, making them safer and healthier places to live, work and commute.
The Office
Although technology has enabled many workplaces to adapt to remote working throughout prolonged periods of lockdown, returning to the office remains an irreplaceable part of the working life. Being in the physical office environment is where important discussions, collaboration and new ideas are generated. In order to encourage employees back into their office spaces, buildings will need to introduce flexible hygiene and wellbeing solutions that allow employees to feel safe to return to work, and align with new hybrid ways of working.
Automation will play a large role in solving this desire not to touch things, and rethinking the design and flexibility of existing spaces will help facilitate a smooth return to work. Office buildings often already incorporate automatic doors in main entrances, but there are a number of other touchpoints that may still require employees to open doors by hand, such as restrooms and common areas. KONE offers a comprehensive range of automatic doors and door openers that can be fitted to KONE and non-KONE equipment.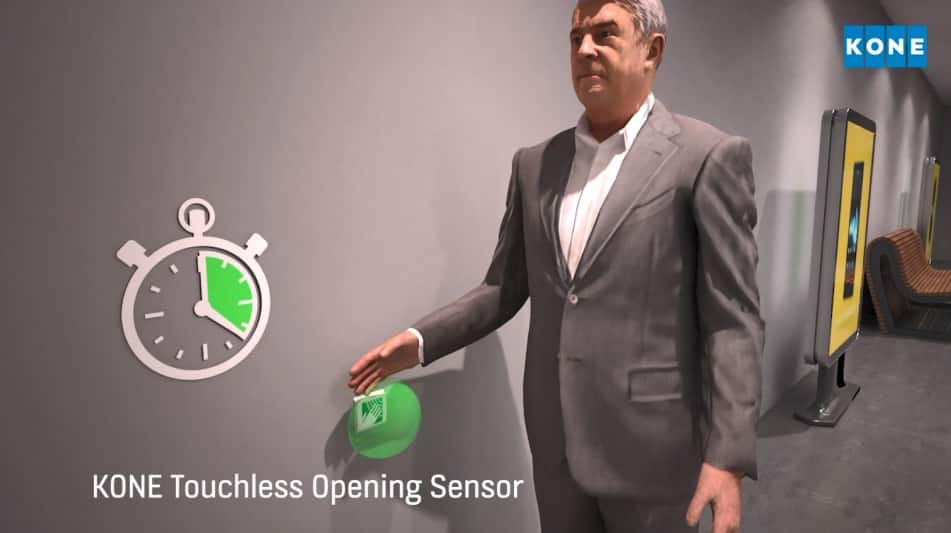 A truly contact free journey can be achieved with KONE Elevator Call, which allows users to summon an elevator using their mobile device, removing the need to touch any shared surfaces. This solution is already offered for connected residential buildings, and now KONE has expanded this service to make it compatible with connected elevators in other existing buildings, which we are seeing implemented more and more into commercial environments. The ability to call an elevator not only reduces the spread of bacteria, but also minimises wait times and provides an elevated workplace experience.
The Retail Centre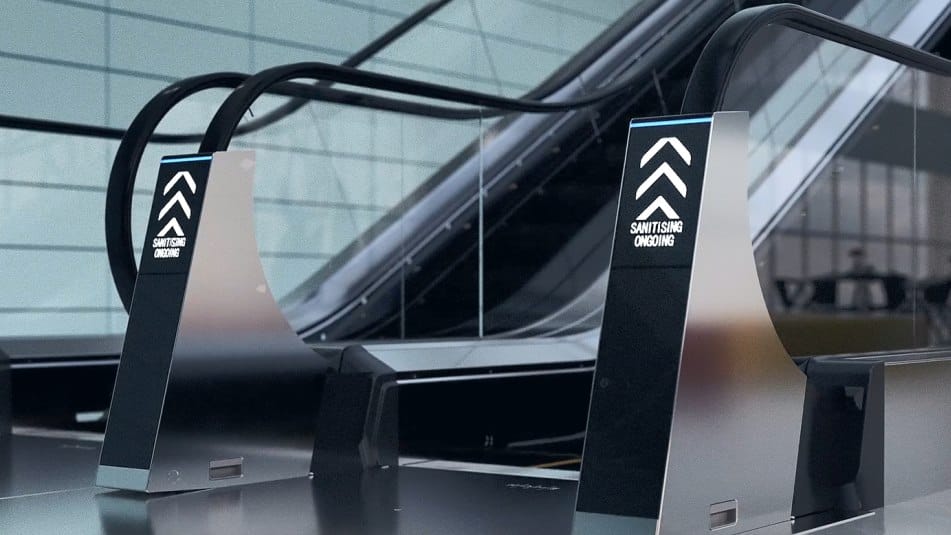 As restrictions in many cities begin to ease and we make the transition back to normality, our retail centres and urban hubs have had to adapt to unexpected health and wellbeing needs. This may look like Click and Collect models rising in popularity, or centres upgrading parking facilities to make journeys touchless.
People are consciously choosing to not hold handrails on escalators, and use everything but their finger to press elevator buttons, proving just how important it is for building infrastructure to be flexible and purpose designed.
Pathogens can be transmitted via high touch surfaces such as escalator handrails, and shoppers are acutely aware of this. But choosing not to hold the escalator handrail can risk injury from loss of balance. KONE Handrail Sanitiser Premium technology is here to solve this problem.
KONE Handrail Sanitiser Premium protects users by using triple-cleaning technology including UV-C lighting and spray to automatically sanitise the handrail on each revolution. This game-changing technology can be conveniently fitted to a wide range of escalators and autowalks in order to enhance the hygiene standards of existing spaces, resulting in more comfortable and relaxed shoppers.
Retailers count on centres to manage people movement - keeping foot (and trolley) traffic moving. KONE People Flow Planning and Consulting is able to work with centre owners to map out density and people flow, to enable flexible, functional designs that provide users with frictionless navigation, shorter travel times, and reduced bottlenecks or crossflows. Not only does this provide for optimal user experience, with social distancing requirements at play, centres need to reduce the likelihood of long waits at lifts, or shoppers being clogged at escalator points.
The Home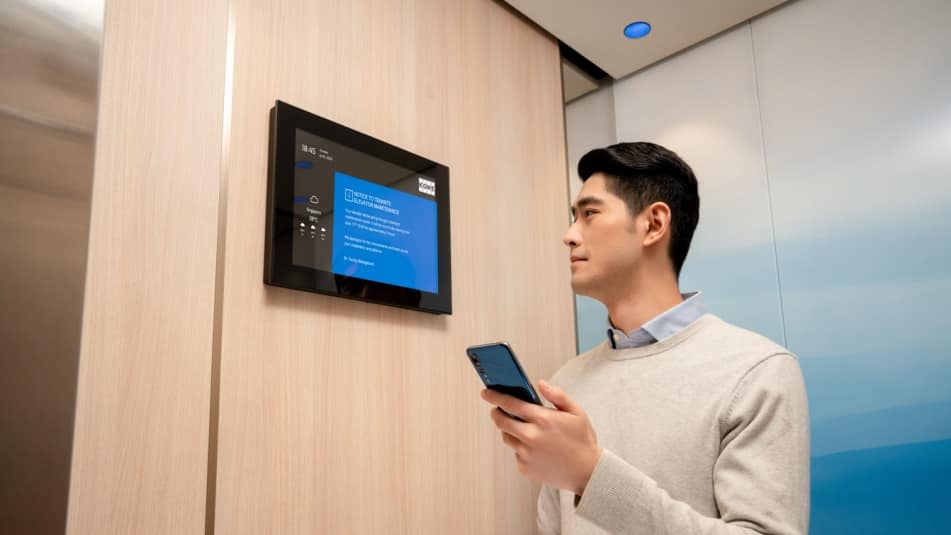 The desire for people to rethink how they interact with their immediate environments also extends to the home. Everyone expects their home to be a sanctuary, so it's up to residential building managers to give residents peace of mind that the spaces they're coming home to are safe.
A lot of this simply has to do with information and transparency. KONE DX Class connected lifts offer a host of new, exciting ways of delivering information in residential buildings, such as maintenance request apps and in-car digital information screens. In times of uncertainty, these solutions help facilitate effective communication with residents remotely and in a timely manner, without interfering with their space. Updates can be delivered through lift services and remote connected apps, giving strata managers as well as residents peace of mind.
There's no doubt that the way people move through our urban hubs may never be the same. With people now thinking more carefully about what they're touching and how they're moving around populated spaces, implementing new flexible solutions for healthy and safe people flow environments is pivotal in encouraging people back to urban life. KONE's suite of health and wellbeing solutions can offer simple, flexible ways to return to new norms.