City-dwellers the world over will do anything to make their hectic working lives a fraction easier; if a job comes up in building A that requires five minutes less commute time than an identical job in building B, the average urbanite will opt for A.
So how do you entice the time-pressed workers of Singapore into new office space that is a gargantuan 10-minute walk (gasp!) from the nearest metro?
Answer: you give it a life of its own.
ALICE@Mediapolis is a striking 11-story building in the heart of Singapore's Mediapolis, a bustling development in the Queenstown neighborhood that is surrounded by other themed hubs with names such as Biopolis and Fusionopolis. It's all part of a tech/research-heavy belt named one-north that occupies a 200-hectare swathe of this innovative and hyper-progressive island.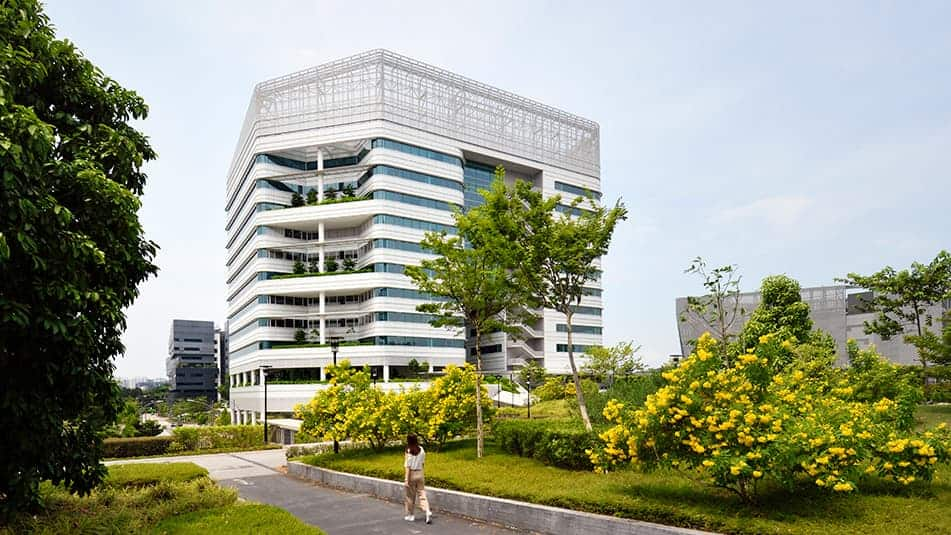 While one-north is every bit the model of Singapore's approach to future-facing, sustainable urban development, competition across the island to attract business tenants can be tough – especially when office-sharing companies like WeWork are shaking up the landscape.
On top of this, expectations among business tenants are astonishingly high: Singapore was, after all, named the Smart City of the year at the Smart City Expo World Congress in 2018. More than USD 1 billion has reportedly been put aside to spend on smart city technologies in Singapore in 2019 alone.
A building that goes deeper
In the face of so many potential hurdles, ALICE@Mediapolis had to go deeper. Not quite down the rabbit hole, perhaps, but certainly deep enough to ensure that the creatives and start-ups who would use this multi-tenant building – the first privately developed, green and smart, multi-tenant business park and office space in Mediapolis – were taken on something of an adventure.
The result is a place where green spaces, stunning architecture and great minds combine. And underpinning it all is some pretty clever technology.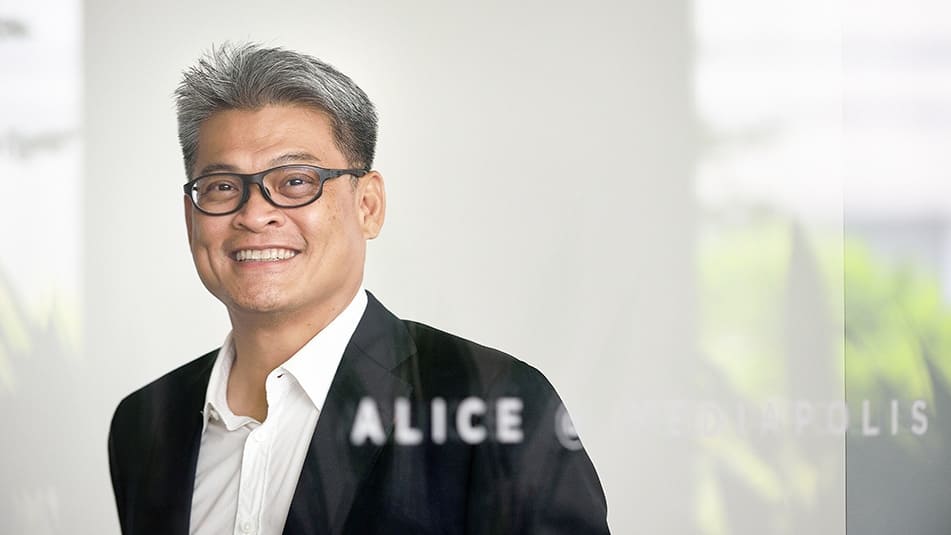 "Right from the start we wanted a building that was very progressive, a 'smart' facility that would give users a fantastic digital experience," says Thomas Chu, managing director at Boustead Projects Limited, the building owner behind ALICE@Mediapolis. "People today want things to be instantaneous, and I think we gave them that."
For KONE, the customer's tech-heavy brief represented an exciting opportunity to try out something different. In addition to service and passenger elevators, KONE provided the building with turnstiles and Advanced People Flow Solutions like the KONE Access™ building access system and the KONE Destination elevator control system – solutions that can "talk" to each other to make moving through a building smoother and barrier-free. Not only was this the first time such a comprehensive set of KONE solutions was installed in a building in Singapore, but Boustead also wanted to raise the bar with the integration of a smartphone app into KONE's entry and elevator system.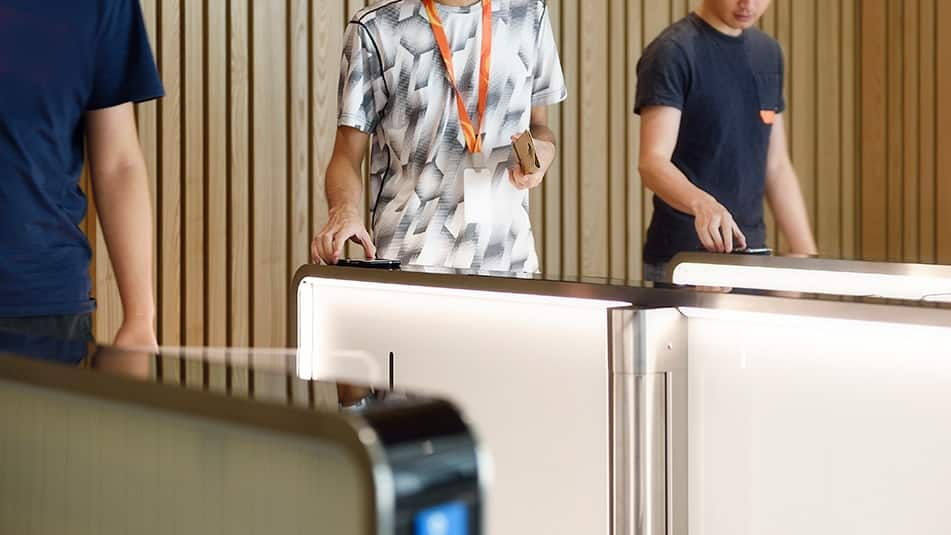 Your smartphone is your access
Driven by a need for seamless people flow, Boustead were keen for ALICE@Mediapolis to be a building where tenants could operate the outer doors, turnstiles and elevators without a traditional card reader. While a card system is in place as a back-up, everything is to be done with smartphones – something that KONE already implements in residential buildings with KONE Residential Flow.
"In the beginning, when we were discussing the scope of the work, the customer's request was a real challenge, because we have not utilized this solution before," says George Chen Fu, project manager with KONE Singapore. "It took collaboration, as well as a lot of testing in terms of both software and hardware – but we did it. They wanted something new and we worked with them to give them that."
ALICE@Mediapolis's tenants are businesses which employ busy, creative people for whom agility within the workplace is crucial. The building they now work in not only facilitates intuitive and smooth navigation, but also offers an e-scooter "pit stop" and charging station, shuttle services to and from the metro, a creche for little ones, showers, bicycle parking and laundry facilities.
In addition to this, a food delivery service has just installed a smart ordering system and a 40-seat canteen within the building. Here, workers can use their phones to access "food cubbies" containing orders they placed. It's the first of its kind in Singapore.
Smart, on-trend and environmentally minded
ALICE@Mediapolis is a shining example of an intelligent, environmentally conscious Singapore office building, with sky terraces on the third, sixth and ninth floors, and solar paneling on the roof.
"We obtained the Green Mark Platinum status," notes Nicholas Heng, Boustead's project director at ALICE@Mediapolis, "and we also impose green tenancy requirements. When a tenant comes in, they need to think about energy-efficient LED lighting and things like that. Staying green is very much a group effort."
Naturally, KONE stepped up to the plate, too, providing energy-efficient motors for the building's 10 KONE MonoSpace® and 2 KONE TranSys™ elevators.
"For us," says Chen Fu, "ALICE@Mediapolis is a giant leap for KONE Singapore. The response from the tenants has been overwhelming – and that's because they can see how this building can actually improve their business."
READ MORE
Quick facts: ALICE@Mediapolis, Singapore
What constitutes a sustainable lifestyle?
Smart ways to a smart city
Green ambition
Certified with a green bill of health
Beyond business as usual
Sustainability at KONE
Onward and upward
KONE Advanced People Flow Solutions
Embracing the new, the future of offices and working