Back to top
GREENEST HOSPITAL DOWN UNDER
Green is the colour of healing at Melbourne's inspirational Royal Children's Hospital.
Description
The new Melbourne Royal Children's Hospital (RCH) in Victoria, Australia, is the state's largest medical complex, featuring 85 per cent single inpatient rooms, an integrated education centre, and twice the research space as the old hospital it replaced. Uniquely designed as a stimulating environment for children, its inspiring design is matched by a range of advanced eco-features making it the greenest hospital in Australia.
#Asia
#Elevators
#Escalators & Autowalks
#Medical
Solutions
Stage 1 - 18 KONE Minispace™ lifts, 1 KONE MiniSpace™ high-rise lift, 2 KONE MonoSpace® Special lifts;
Stage 2 - 6 KONE MonoSpace® Special lifts, 2 KONE MonoSpace® TranSys™ lifts, KONE E-Link™ monitoring system, KONE Care™ Maintenance Service
Year
Stage 1: Oct 2011; Stage 2: under construction until 2014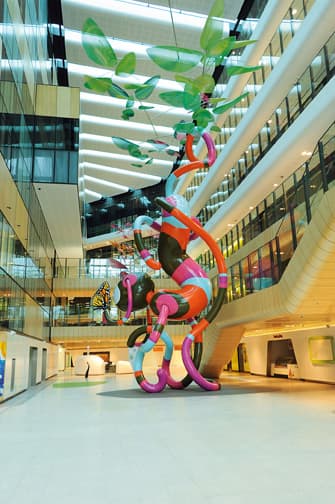 Regenerative energy
Awarded a Green Star Rating by the Australian Green Building Council, the RCH produces 45 per cent less greenhouse gases than a conventional hospital thanks to its energy-efficient solutions, including our lifts which feature regenerative drive KONE EcoDisc® technology.
One of the special units of equipment we supplied is the super-sized lift that travels from the helipad to all inpatient levels. Designed to enable life-saving procedures to be carried out while transferring emergency patients from the helipad to surgery, it is the largest hospital bed passenger lift in the southern hemisphere.
Other custom features delivered by us include digital cameras in the lift cars, KONE E-Link™ monitoring connected to KONE's regional office via wireless technology and specially-etched and painted glass car interiors featuring children's themes.
Despite the aggressive schedule, the project was completed on time, with the builder and subcontractors working closely together to achieve a high-quality result.
Explore our other reference cases