Back to top
Bringing together Sydney's past and present
With a façade harking back to Sydney's historical past against the modern backdrop of the hustle and bustle of the Sydney CBD, Hyatt Regency Sydney is uniquely placed to bridge the past with the present.
Description
Redeveloped in 2016 to provide a contemporary luxury experience for guests, Hyatt Regency Sydney also looked to modernise their lifts and escalators with the latest in KONE's People Flow solutions. As Australia's largest premium hotel with 892 guestrooms and over 3,700sqm of flexible meeting and event space, KONE worked closely with Hyatt Regency Sydney to ensure their equipment was not only upgraded and improved to reflect the highest standards in luxury and design, but also engineered to provide a smarter and more eco-efficient operation.
#Asia
#Elevators
#Escalators & Autowalks
#Hotel
#Modernization
#New equipment
Building facts
Event space: 3,700sqm
Guest rooms: 892
Developer: GL Investments

Builder: Brookfield Multiplex
KONE solutions
2 KONE MonoSpace® elevators

2 KONE TravelMaster™ 110 escalators
2 KONE TranSys™ goods elevators
Modernisation of 8 lifts
5 guest lifts (2.5m/s, 1350kg)
3 back of house lifts – (1.75m/s, 1350kg)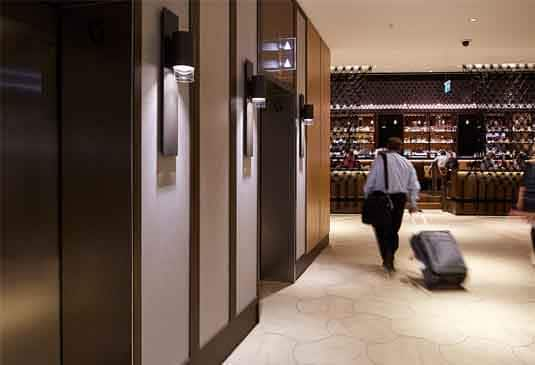 Seamless guest experience
From guests looking to stay in Sydney for a holiday to a conference hosting over a thousand people, Hyatt Regency Sydney is placing particular emphasis on creating a seamless and accessible guest experience. KONE worked with the building and facility managers to analyse the traffic throughout the hotel and along with our experience and expertise from working with hotels around the world, developed the People Flow solutions that best fit the needs of Hyatt Regency Sydney.
Eco-efficency
As a hotel that operates 24/7 every day of the year, Hyatt Regency Sydney has prioritised energy efficiency throughout its operations. KONE's modernisation solutions were focused on not just enhancing the aesthetics and guest comfort of the equipment, but also on improving the behind the scenes operations of it to improve their eco-efficiency. Smart operation modes, compact drive systems and more efficient lighting has been installed to bring about energy savings across the hotel's operations.
Explore our other reference cases